All sessions on Monday are in Chardón. All other sessions on Tuesday and Wednesday are in the General Library.
Google Map of Locations

View THATCamp Caribe 2012 in a larger map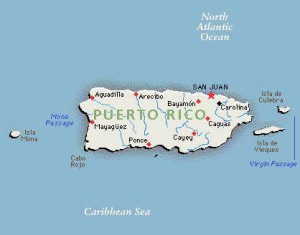 Travel to Puerto Rico
Since Puerto Rico is a U.S. Territory, U.S. citizens do not need to worry about passports, currency, or even cell phone service: it is just like travel to any of the 50 states.
Non-U.S. citizens will need a passport and a U.S. visa to travel to Puerto Rico. If you don't have one already, read the section below on 'Visas.' Phone service might vary for non-U.S. citizens depending on their carrier.
Airports
There are two major airports in Puerto Rico, San Juan (SJU) and Aguadilla (BQN). San Juan is 2.5 hours away from Mayagüez, while Aguadilla is only 40 minutes away. If you're planning to attend the ASA Annual Meeting, San Juan is probably the best choice. It has more flights and slightly better prices. If you're only attending THATCamp Caribe, then flights to Aguadilla may reduce your travel time and be more convenient.

Ground Transportation
There are shuttle, taxi, and rental services available at both airports. We will also make some arrangements for University shuttles to pick up and return participants at peak travel times.
Here are some options for getting to Mayagüez from the airport::
www.cabspr.com/ –  costs about $160 and can take up to 5 people. (787) 969-3260. You can walk out of baggage claim and take a taxi.
Car rentals are available through your favorite travel site and are quite affordable. It should be about $80 for four days. The drive to Mayagüez, depending on traffic can take 2-3 hours. All the online map services work nicely as well, so you can plan your travel that way.
Social is the way to go with this. Coordinate with some of your fellow participants. Here's a shared document to coordinate carpooling.
Hotel
We have made arrangements with the Howard Johnson in downtown Mayagüez, a short walking distance from the University. They have reserved the entire hotel for the conference, allowing for check in on Sunday, November 11 and check out on Thursday, November 15. In order to make a reservation, you need to call the hotel (787) 832-9191 and identify yourselves as THATCamp Caribe.
Units Available
Room Type
Unit Price
Description
25
Single
$105.65
1 queen bed, coffee maker, cable TV, internet. A/C.
12
Double
$116.55
2 double beds, coffee maker, cable TV, internet. A/C.
7
Suite
$127.99
1 queen bed, 1 sofa bed, coffee maker, cable TV,
internet. A/C.
uncertain
Upgraded
Suite
$149.79
1 queen bed, 1 sofa bed, coffee maker, cable TV,
internet. A/C.
4
Penthouse
$166.14
1 queen bed, 1 sofa bed, coffee maker, cable TV,
internet. A/C.
Prices include 9% tax and all fees, including parking (slight discount for those without cars), continental breakfast, pool and hotel facilities.

The University Hotel is currently closed. All reservations made have been cancelled.

The Hotel Colonial is a cheap, decent hotel in downtown Mayagüez, ideal for travelers on a tight budget. It is a 10 minute walk away from Campus.
Visas
While we cannot obtain visas on your behalf, interested participants in ThatCampCaribe should note the points below we have compiled to assist you in getting the visa process started. For participants affiliated with an academic institution, please be sure to contact your institution in the event they can facilitate guiding you through this process. The key here is Starting Early.
We have included the link for the necessary B Visa which participants should use. Once submitted  via the link below, each participant must then make an appointment to attend an in-person interview at the US Embassy or Consulate nearest to you. Please note the sites linked below are all official US State Department links. Please be careful when providing any information to any visa related website which is not an official US State Department website.
Please note the limitation on US Embassy services in Curacao (must go through Venezuela), Antigua and Barbuda, Dominica, Grenada, St. Kitts and Nevis, St. Vincent and the Grenadines.
Nonimmigrant visa application processing fee (non-refundable).
Non-petition-based nonimmigrant visa: US$140.00
Some useful links:
Electronic Visa Application Forms
How to Apply for a U.S. Nonimmigrant Visa
Finding a US Embassy in your country
U.S. Embassy Directory
Please review for local procedures and instructions for your country, such as how to make an interview appointment. Embassy and Consulate websites will also explain any additional procedures for students, exchange visitors and those persons who need an earlier visa interview appointment.
How long will it take?
Visit the Visa Wait Time site.
Limited Visa Services
The following U.S. embassies and consulates previously provided full nonimmigrant and/or immigrant visa services to the public. However, these embassies and consulates presently provide limited visa services because of natural disasters, civil unrest, war, security concerns, and/or other reasons.
Netherlands Antilles, Curaçao:
U.S. Consulate General Curaçao provides limited nonimmigrant visa services to applicants with Dutch passports applying for certain categories of nonimmigrant visas.  Review the U.S. Consulate General Curaçao website for more information.
Nonimmigrant visa applications for all other categories and immigrant visa applications are processed at U.S. Embassy Caracas, Venezuela.
Antigua and Barbuda; Dominica; Grenada; St. Kitts and Nevis; St. Lucia; and St. Vincent and the Grenadines:
While nonimmigrant visa applicants resident in these countries may apply in person at any U.S. embassy or consulate where they have an appointment, U.S. Embassy Bridgetown, Barbados, processes visa applications for residents of these countries.
Immigrant visa services from residents of these countries are also provided at U.S. Embassy Bridgetown, Barbados.
If you still have any questions, please email us. We will try our best to help you get to Puerto Rico.